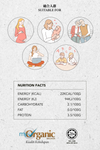 有機原味滴雞精 Organic Drip Chicken Essence
Vitamins & Supplements
Sale price
RM218.00 MYR
Regular price
RM238.00 MYR
有機滴雞精 Organic Drip Chicken Essence
〔甘榜全雞鮮熬 Fresh made with WHOLE KAMPUNG CHICKEN]
大夫有機滴雞精,堅持以本地放餐走地有機士雞,新鮮熬製,讓您享有市面上最新鮮美味的滴雞精,原汁原味,比起家中滴制,更濃郁清甜。
結合中醫食療養生與現代科技研制而成,運用隔水清燉的高壓溫火細熬,全程不加一滴水,熬煮完成後經多道工序去油隔渣,比起家中自制的,更能有效地去除脂肪和膽
固醇,把雞隻的營養成分完全釋放,更易於人體吸收,進補同時不長肉。
以先進技術包裝,無添加防腐劑,毋需冷藏,隨時隨地能享用。
使用方法:
將未打開的瓶子放入一碗熱水中浸泡約 3分鐘。
本產品無添加防腐劑,開封後請立即食用完畢。
儲存方法
存放在阴凉干燥,避免阳光直射。
成份:
有機放養土雞。
注意事項:
加熱後請小心燙口。
如發現封口破損譜勿食用。
勿将包装瓶放在微波炉中加熱
本產品含天然原材料,有少許沈澱物屬正常現象。
如對體質有疑惑,尤其是孕婦或長期病患者,請在使用前咨詢您的醫師。
Daifu's Organic Drip Chicken Essence, insist on using local free-range organic chickens, freshly cooked and delivered, so that you can enjoy the most freshest and
delicious Chicken Essence in the market.
It is developed by combining Traditional Chinese Medicine and modern technology. Freshly made under high pressure with medium temperature. No water has been added throughout the process. Oil separation through filtration, leaving only pure essence of chicken.
Compared with the homemade one, it can effectively remove fat and cholesterol. The nutrient ingredients are completely released, which is easier for the body to absorb. Advanced manufacturing techniques with no preservatives added, no refrigeration required, you can enjoy it anytime and anywhere!
Drink one bottle every morning to maintain a healthy body. It can be consumed directly after opening, and the flavor will be better after heating. 
If you have doubts about your physique, such as pregnant women or chronically ill patients, Please consult your doctor for advice first.
HOW TO DRINK
Place the unopened bottle into a bowl of hot water for 3 minutes. This product does not contain any preservatives. Please consume immediately after opening.
STORAGE
Please store in a cool dry place and avoid direct sunlight.
INGREDIENTS
Organic Free Range Chicken
PRECAUTION
Open the bottle cautiously as the content may be hot after heating.
Do not consume if the packaging seal is damaged.
Do not put the packaging bottle in the microwave oven to heat.
This product contains natural raw materials, and a small amount of sediment is normal.
If you have any concerns on your health condition, especially pregnant women or people with long-term illness, please consult your physician before use.